30th! Celebration with one and only birthday concert in Poland
In addition to the already announced special concert in the largest Czech hall in the Czech Republic, she will also celebrate her 30th birthday with Polish fans with a concert in Poland.
This will be the only such opportunity this year! The special birthday concert will take place in WARSAW at Club PROGRESJA on 28.10.2023.
TICKETS:
https://empikbilety.pl/wydarzenie/ewa-farna-30/pazdziernik-2023
https://goingapp.pl/wydarzenie/ewa-farna-30/pazdziernik-2023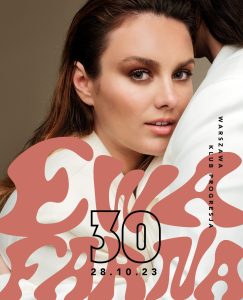 Female Artist of the Year at the Radio Music Awards
Thank you fans for all your votes at the biggest radio awards!
Ewa on the cover of ELLE Magazine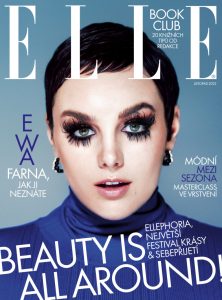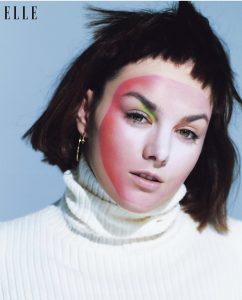 Ewa released acoustic EP
Listen to the tracks from UMAMI Akustycznie:
You can also see performances of these three songs from the studio in video form on YouTube.
Forbes choosed Ewa for 30 under 30
Ewa has won the "Female Artist of the Year" at Ceny Anděl!
"Thank you so much for the beautiful award, it was my dream to win it and I really cared about it" – Ewa said.
The academics nominated Farna in the Album (Umami), Solo Female Artist, Song (Tělo) and Music Video of the Year categories.
You can watch the live performance HERE:
PHOTOS FROM EVENT:
Ewa's album UMAMI has the most nominations for Czech Grammy Awards
The album UMAMI provided singer Ewa Farna with the most nominations for the Cen Anděl
In the Academy's voting, Ewa Farna is the favorite for the 31st edition of Cen Anděl. For her album "Umami", she is nominated in the categories "Album of the Year" and "Best Female Artist". The single "Tělo" may become the "Track of the Year" and the fourth nomination is in category "Best Music Video of the Year" also for "Tělo". Three nominations each went to Vladimír Mišík and his Noční obraz and the album Dýchej, which was completed by bandmates Bandjeez after the death of David Stypka.
Ewa will be performing live single Tělo while the ceremony.
Ewa released album UMAMI after seven years!
Ewa Farna for the whole album UMAMI:
"The UMAMI album is colourful, diverse, it's me in the uncombed version. My goal was to combine a positive pop sound and lyrics that bring a certain message to the listener. I let go of addressing the musical style and focused on what was on my mind." says Ewa Farna.
The singer hasn't paid as much attention and care to any of her records in her approach to the lyrics, the songs themselves and the overall concept as she has devoted to this new release: 'Umami is the fifth taste', which is hard to describe. The first time we encounter it in our lives is mother's milk. For everyone the umami of their life is something different, for me personally it is motherhood. In Czech and Polish the word "umami" sounds the same as "at my mother's", for me the play on words has just that meaning I needed.
Farna collaborated on the album with producers and authors from all over Europe – besides the Czech Republic, Poland and Slovakia, she also worked with artists from Denmark, England and Switzerland. Jenda Vávra, known from the band Jananas or from the organisation of songwriting camps in the Czech Republic, was her collaborator throughout the recording process. Apart from him, she collaborated on the czech lyrics with Tomáš Belko, Robin Král, Jana Infeldová or the debuting singer Annabelle. Czech co-writers on the album include Lukáš Chromek, Jan Steinsdörfer, Marcell and many others.
On polish lyrics she collaborated with Mery Spolsky, Margaret, Kacezet, Mikołaj TRIBBS Trybulec, Sarsą, Magda Wójcik. She is joined by a very popular singer and musician Krzysztof Zalewski in the polish version of the song "Smutna piosenka".
"Motherhood itself has given me a lot of inspiration, because it sets a mirror to me every day and teaches me to recognize myself in different situations and emotions. In fact, such a true insight into oneself is also necessary when writing lyrics."
The album czech version of UMAMI was released as a CD on December 2, 2021 and digitally on December 10, 2021.
The Polish version of the album UMAMI was released on 28 January 2022.
LISTEN to czech album UMAMI on Spotify: https://open.spotify.com/album/1dXLykCkxmJxSHFDHPLtES?si=ksq56-hISGeykuKUPfHRZQ
LISTEN to polish album UMAMI on Spotify: https://open.spotify.com/album/7DjcsCIQT8saHsJXROfzDp?si=W546PncSRa6nvS93NPLd-A
Ewa heralds the album with the fourth single
As the artist puts it:
"We are currently living in a heavily hyped reality. Feeding on headlines, hashtags, clickbait, we often miss the point because we lack the time to delve deeper. Millions of issues, topics, the hardships of everyday life, dilemmas, being constantly on the run, in motion, in a rush we try to find some of this time for ourselves… And that's what this piece is about. A bit ironic, but all in all it's hard not to agree – that we have no time to waste."
"I made up a music video in a happy mood, because that's what's in my soul right now. Light, funny, a little bit tongue-in-cheek, and a little bit just for you to have fun, to dance while doing household chores. Also, I'm in a high stage of pregnancy, which makes the wannabe sexy dances look cute, or just funny " – she adds with laugh.
The track was created in collaboration with Mikołaj Tribbs Trybulec.
CZECH VERSION:
Touching music video for new single
Soon, her sixth Polish-language album "Umami" will have its premiere.
Meanwhile, another single announcing the album has appeared online. In the video for the moving ballad titled "Wersja 2.0." (czech title is " Verze 02″)
There she meets herself, 15 years younger.
Because it is from the age of 13 that Ewa Farna appears on the Polish and Czech stage. The symbolic moment of the meeting of the two versions of Farna was achieved in the music video thanks to the face replecement technology, thanks to which it was possible to computerize their meeting.
"It's interesting to me if this teenage Ewa would like to be friends with me. Maybe I've become someone over the years that she wouldn't be able to get along with? Am I still true to my ventures, my dreams, my childhood ideals?
Would a young Eve appreciate the path her adult self has walked?
I think it's important sometimes to talk to the childish version of ourselves, somewhere inside, because it allows us to remain in our truest and purest form," adds the singer.
Ewa released single about the art of saying "no"
Ewa Farna continues to prove that she's not afraid to sing about whatever she wants.
"I believe that we are often more defined by the things, proposals, behaviors we say no to than those we agree with. What we choose not to do is often invisible, and it says so much about us. Learning to say 'no' is hugely important so that our 'yes' can actually mean something," the 28-year-old singer describes her piece and continues.
"In the clip, the challenges we face are presented in an artistic way. Whether we put an end to them is now our choice. Among other things, I appear as Eve of Eden, who this time says no to temptation, to evil. This is symbolic of that message." The video for the song was recorded in Warsaw and was directed by Adam Romanowski.
"I refused a session in Playboy, I didn't become the face of a fast food chain, I wasn't drawn into the world of stimulants…. There are many things that I say no to – to live according to my system of values, to look myself in the eye, to be proud of the fact that I live my life according to my own rules.
For myself, it is worth saying "no" for the peace of my soul. And this does not mean that we have to do it ugly or with contempt." – Eve adds.
"No Nie" (czech title is " No Ne") is the second single announcing the release of the album "UMAMI".
CZECH VERSION:
"I am Ewa and this is my body." The new era of Ewa's music
A strong media personality and bold social media posts mean that her statements are widely commented on and the public does not go unnoticed. She is a well-known fighter who, often with distance and humor, raises the subject of body positivity, empathy for oneself and the people around, mental health and naturalness.
In the newest single " CIAŁO" (czech title TĚLO), which announces her new album, Ewa Farna talks about her past and how many times she was judged because of her body. The track is an encouragement to accept yourself.
"It's about celebrating the body in terms of how it functions and not just the aesthetics that the world pushes us to do. After my body brought new life into the world, I gained even more respect for it, and I am full of admiration for what it can do. My body has been oppressed by others at times and I am even ashamed that I have doubted it at times. My, albeit not slim legs got me all the way here, on my shoulders I've already lifted something there too, so I'm so normally grateful. All my life my body will change, change is the only thing we can hope for. So I want to be able to like or at least accept what can't be changed."
"The song is about accepting changes on the body that we have no control over. And something feels like for the future, this could be the number that always reminds me how important it is to try to accept how life is going to sign off on me. Thank you to all the amazing girls who shared their story and their attitude, they inspired me to do this too."- reads the description of the video.
CZECH VERSION: